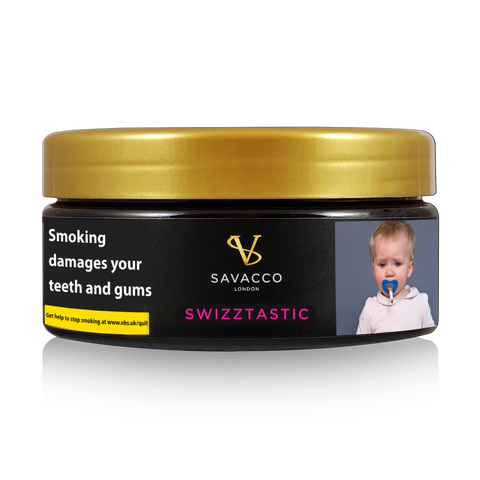 Indulge in the irresistible allure of Swizztastic Pomegranate shisha, a captivating blend that takes your hookah experience to new heights. With its exquisite fusion of luscious pomegranate and premium shisha tobacco, Swizztastic transports you to a realm of sublime flavors and tantalizing aromas.

Crafted with the utmost care, Swizztastic Pomegranate shisha offers a harmonious balance of sweet and tangy notes that dance on your taste buds. Each inhale delivers a burst of juicy pomegranate goodness, while the velvety smooth smoke envelops your senses, leaving you craving for more.

The Swizztastic brand is renowned for its dedication to quality, ensuring that every puff of their Pomegranate shisha delivers an unparalleled experience. Made from the finest ingredients and meticulously blended, this flavor guarantees a robust and long-lasting smoke session, satisfying even the most discerning shisha enthusiasts.

Whether you're a seasoned hookah connoisseur or a curious beginner, Swizztastic Pomegranate shisha is the perfect choice to elevate your hookah sessions. Immerse yourself in the captivating flavors, unwind with friends, or create unforgettable social gatherings - Swizztastic Pomegranate shisha sets the stage for memorable moments.

Discover the pinnacle of shisha excellence with Swizztastic Pomegranate flavour. Order your pack today and embark on a flavour-packed journey that will leave you craving for more. Elevate your hookah experience with Swizztastic - the epitome of shisha perfection.